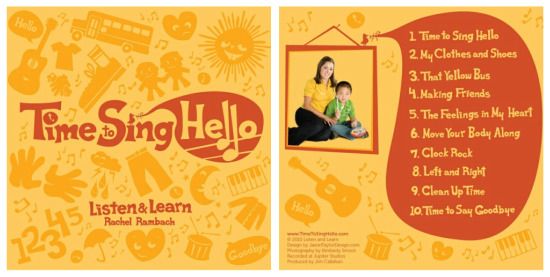 Time to Sing Hello is the first studio album by board-certified music therapist and singer/songwriter Rachel Rambach, the creator of Listen & Learn Music. This album is unique in that it was funded by fans of Listen & Learn via Kickstarter, a platform for collecting pledges to bring "creative ideas and ambitious endeavors" to fruition. Time to Sing Hello started as just that; now, thanks to Listen & Learn supporters, it's a reality!
This album is a collection of 10 songs, from "hello" to "goodbye" with a little bit of everything in between. Like all of Rachel's Listen & Learn songs, acoustic guitar and vocals make up the core, but you'll also hear drums, electric guitar, bass, and other instruments in Time to Sing Hello.
I hope that you'll download the album; the objective is for these educational (and more importantly, FUN) songs to be heard by kids of all ages and abilities far and wide. So go ahead: listen, learn, and sing along!